Boulevard de la Croisette is a genuine backbone of Cannes, since it generally delineates the lay out of the main attractions of the city, namely, its beaches. Indeed, the beaches in Cannes are the closest thing to the idea of symbol of this French Riviera resort. Beaches in Cannes divide into two categories.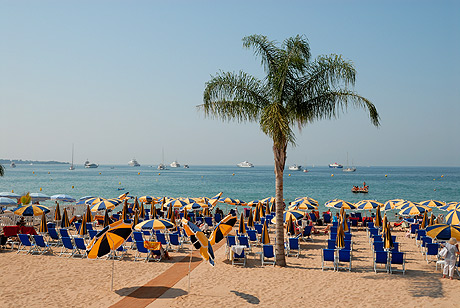 Cannes Private Beaches
Thus, most of them are private beaches, belonging to the luxury hotels in Cannes. Yet, at a price, even tourists who do not actually stay at such hotels are granted access to some of these beaches. In this respect, some of the highest rated sunbathing venues refer to, for instance, the Martinez Beach (Plage du Martinez) owned by the homonymous hotel, which is best known for its constant reference to the Cannes Film Festival. The Royal Beach (Plage Royal) is yet another popular hotspot, belonging to the Grand Hotel. Noga Hilton, Carlton or the Majestic also have their own beaches, which goes without saying. What is characteristic of these venues is that they provide certain services and amenities, such as lounge chairs or sun umbrellas, changing and washing facilities, and areas dedicated to practicing certain beach activities, volleyball included.
Cannes Public Beaches
On the other hand, the Plages de la Bocca and the Plages du Midi count as the most popular free public beaches, along with the Plage du Casino and Plage Gazagnaire. In addition, the Palm Beach (which does not open out along the La Croisette) is said to be more adequate for spending time with the family, given its rather shallow waters which diminish the risk of unwanted events. As a plus, kite surfing is said to be best enabled in this area.
All in all, there are plenty of options to choose from in terms of beaches in Cannes. May it be a private beach or a public one, all tourists have the opportunity to enjoy the lovely Mediterranean summer doing what is exemplary for the hottest season of the year.
Go to top