Cannes International Film Festival is the first thing that comes into your mind when you hear about Cannes; the same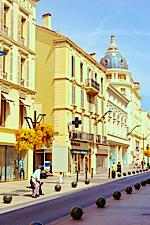 way we associate love, romance and arts to Paris.
Cannes is of course famous for this yearly major film awards event, but it has much more to offer. Its sandy beaches, with scattered palm trees along the promenade, are full of tourists enjoying the sun and the Mediterranean Sea at the Cote d'Azur. This makes Cannes one of the Spa and beach holidays hotspots of the French Riviera, along with Nice, Antibes, Monte Carlo and Menton.
Cannes Short History
The area now occupied by Cannes was inhabited by humans since the 2nd Century BC, when the ligurian tribes of Oxybii created a settlement under the name of Aegitna. In the 10th Century AD, the locality was known by the name of Canua. Canua was initially a ligurian port and afterwards an Roman outpost (the roman graves stand proof of this).
Hospitality and Accommodation in Cannes
The city of Cannes concentrates its buildings on the sea shore, along the famous La Croisette promenade, where one can admire the luxurious hotels and beaches. However, Cannes accommodation facilities include hotels for all budgets, from 1 star hotels to 5 star and luxury hotels, apartments and residences as well as camping areas. Four of the many luxury hotels in Cannes are Carlton Intercontinental, Majestic Barrière, Martinez, Palais Stéphanie, all built in different architectonic styles and set on La Croisette Boulevard.
Gastronomy and Eating Out in Cannes
Cannes counts more then 280 refined restaurants, some of them receiving special culinary prizes (La Palme d'Or Restaurant has received 2 stars prize by Michelin Guide). There are plenty of restaurants able to satisfy even the most pretentious tourists with their refined French Cuisine.
The best chefs in Europe compete here in Cannes. The typical French Cuisine of Cannes is a provincial one, dominated by the "flavours of the sea", off the Cote d'Azur. One can enjoy the typical dishes of Provence, like Aïoli, soupe au pistou, daube de sanglier, ratatouille or bouillabaisse (fish soup) along with a French wine like Rosè Bandol or the perfumed white wines Saint Tropez region.
Cannes Tourist Attractions and Objectives
The city of Cannes does offer more then its famous Film Festival. There are plenty of tourist attractions and objectives: museums (Museum of the Sea), casinos (Carlton Casino Club), theaters (Palais des Festivals) or offshore islands. When you feel you need some space and tranquility and get rid of a crowded city and its rush, you may plan an outdoors escapade to the Lerins Islands Archipelago. You can get on Lerins Islands by ferry. St. Marguerite and St. Honorat Islands have sandy beaches and hidden small bays where you can enjoy the sun and sea tranquility.
Cannes Events and Happenings
Cannes International Film Festival is the main event taking place every year in Cannes. There are many other cultural, arts and music events taking place in Cannes. Throughout the year, Cannes hosts a multitude of art expositions, concerts and cooking events as well as sports and sailing events.
Hotels in Cannes
Go to top
Residences in Cannes
Go to top
Campings in Cannes
Go to top